Countdown to 2014: end season shuffle shenaniganz
There are a lot of reasons we can rewind and reminisce 2013 season. The last season on the V8 engines didn't go as per planned for most of us because there was one man driving with perfection every race - Sebastian Vettel- he was unbeaten, untouchable and dominant. So dominant to such an extent that Red Bull racing didn't need a Mark Webber to win the Constructors at all!
In other words, this German alone could have been a team and finish 2nd in the constructors and won the driver's all alone. But just behind him, half a lap behind were drivers like Alonso, who himself admitted that

"It's always good to know that you are recognised by your peers," Alonso responded, "but I think 2012 was the best in my career.

This season, there were times when I did not do well enough, such as when I could have had a little more performance, or when I made a mistake like in Malaysia."
Lewis Hamilton, who made a shift from McLaren to Mercedes, had a phenomenal first season and brought the team a 2nd place in the Constructor's championship.
As they say, what the caterpillar calls 'end of the world', the master calls 'a butterfly' and so will be the story of some teams on the grid next season, for when Lewis made the some-say-bad-move to Mercedes, they ended up strengthening their base and came remotely close to challenging the RedBulls.
2014 will be a fresh new start, with new regulations, all points reset to zero and in another 80 days, we'll be back for the start of a new Formula One season. While 2013 was the end of a career, 2014 will be the beginning of a new one. Here is the new driver line up after months of waiting and surviving uncontrollable anxiety attacks every time a driver was announced.
1) Infiniti RedBull Racing
Sebastian Vettel and Daniel Ricciardo will be the order in the world champion team next season. Ricciardo, another of RedBull's junior driver programme, will take the route of Vettel and join alongside the Toro Rosso prodigy next season.
2) Petronas Mercedes AMG F1 Team
Mercedes will be the only top team to retain its driver line up from 2013. Having Lewis Hamilton join their team in 2013 and Nico Rosberg seeming to comfortably settle in the team, Mercedes have got the right spirit going on for the next season, and will be waiting to pounce on RedBull in 2014. Add to that, they have also reinforced their works team with additions from Lotus and RedBull. Can't wait!
3) Scuderia Ferrari
Ferrari hired Alonso (replacing Kimi) in the hope that his skill and perfection would possibly add another 5 titles to their name, but it's funny to see Ferrari in a way, demeaning their "number 1" driver, Fernando Alonso, and sign Kimi Raikkonen, the very same driver they kicked out (and their last championship winner), alongside the Spaniard. The uncomfortable news of Kimi's signing sure did have an impact on the double world champion, now having not denied links to McLaren in 2015 and prospects of him intentionally bringing down his own team's morale. Where there's smoke, there's fire and its going to be more than just smoke in Ferrari next season.
4) Lotus F1
Remember in 2012, when the world was speculating an apocalypse waiting to happen if Maldonado and Grosjean were put together in a team? Well, here it is folks! The bad boys of Formula One in a single team. Though Maldonado has a lot to do and improve with his driving, Romain Grosjean has transmogrified to be the anglophile good guy this season. His driving has become smooth and less reckless (actually not reckless at all). Maldonado can learn from the other papa next season probably!
5) Sony (?) McLaren Mercedes
Jenson Button will be placed along with McLaren backed rookie, Kevin Magnussen for next season. The Briton, having had a below average season at McLaren in 2013 will be hoping to turn his fortune next season when McLaren bring out their 2014 challenger. On the other hand, Danish Kevin Magnussen and the current 3.5 Formula Renault champion will be waiting impatiently to drive his first Formula One race in Melbourne. As Button mentioned, it's a do or die situation for a rookie to join a top team. And unless he is Lewis Hamilton or someone better, his career will be shortlived.
6) Sahara Force India
Nico Hulkenberg will be "returning back home" at Sahara Force India in 2014, after his one year venture failed. But here's something even more surprising- he will be paired along with McLaren immigrant, Sergio Perez. Perez, known as being an aggressive and often repulsive by the McLaren crew, will face a new challenge and in a way, tougher than Jenson Button at Force India. The German, who impressed the world of Formula One with his end season drives, looks forward to scoring podiums and wins with, I believe, a more stronger Force India.
7) Sauber-Ferrari
Sauber has retained Esteban Gutierrez and paired him alongside Adrian Sutil, who lost his seat to Perez at Force India.
8) Toro Rosso
The new GP3 Champion Daniil Kvyat will be partened with Jean-Eric Vergne for next season. The young Russian has already has two formula One outings at the Austin and Brazilian Grand prix in his hand and JEV, will take over the Toro Rosso team after having lost in the 3 way battle alongside Ricciardo, Kimi and Alonso for the 2nd vacant RedBull racing seat.
9) Williams
Felipe Massa retained his Ferrari set last year (2012) because of his amazing comeback after what was a very bad start. But it wasn't so this year. He has been replaced by Kimi and after long talks with Williams, has decided to race for Williams for the major reason that the new Mercedes engine next season will help him compete. The Finn, Valtteri Bottas retains his seat after a great first season in Formula One.
10) Marussia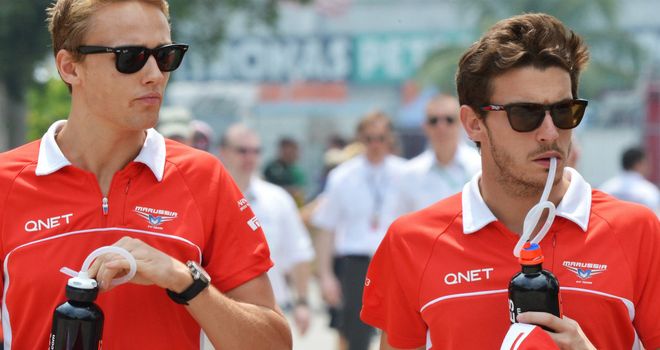 Marussia still hasn't revealed its confirmed driver line up, but it is most likely to reamin the same with Jules Bianchi and Max Chilton.
11) Caterham
A seat alongside Geido Van Der Garde is on high demand from Marcus Ericson , Heikki Kovalinen and surprisingly as rumors grow even more, Kamui Kobayashi!