Re-taking the lead: 2nd win in Monaco for Rosberg
Nico Rosberg wins the Monaco grand prix to retake the title lead a fortnight later from Lewis Hamilton.
After a controversial qualifying on Saturday, spectators and fans were expecting a crash between the Mercedes duo after the relationship between them hit a new low. However, a clean start by Nico Rosberg never let Hamilton have a serious go for P1 though he came very close at times. During the mid race however, Rosberg ran into fuel issues and immediately had to take his foot off the gas pedal in order to save fuel. Hamilton, who had nursed his car the previous laps came close enough to take P1 but once again, never had a go.
On lap 54, the 2008 world champion, Hamilton reported of debris or dirt hurting his vision on track and slowed him down significantly. The gap to Daniel Ricciardo, the only running RedBull then, fell from a comfortable 12 seconds to a 0.7 seconds. Battling with just one eye for sight, Hamilton kept the RedBull at bay to hang onto second after a fight which lasted until the last lap.
Behind the podium finishers was Ferrari driver Fernando Alonso, who after having a bad start, finished fourth. His teammate Raikkonen on the contrary had the best start all season and jumped to 4th from 6th position. And moved up to 3rd after Sebastian Vettel who'd moved up a place on the start, retired from a turbo failure. However, under the first safety car, Max Chilton's marussia caused a tire puncture on Raikkonen's car and had to be pitted immediately, pushing him all the way back. Taking advantage of other drivers' trials, Nico Hulkenberg made his way up to 5th position after a brave move on Kevin Magnussen at Portier.
McLaren's 3 non scoring races streak came to an end after Jenson Button finished P6 and Kevin Magnussen, despite having a minor crash with Raikkonen at the hairpin finished a feasible P10. Behind the British team, came another with Williams' Felipe Massa finishing a strong 7th with a good strategy after a disaster of a qualifying.
Finally after a very long wait, the Marussia team scored their first championship point given by Jules Bianchi's brilliant drive and management to 9th position after starting dead last. Working out a 2 stop strategy for Bianchi, Marussia have beaten 2 safety lap periods and Marcus Ericsson's Caterham to be crowned as the first backmarker in the recent years to ever score a point.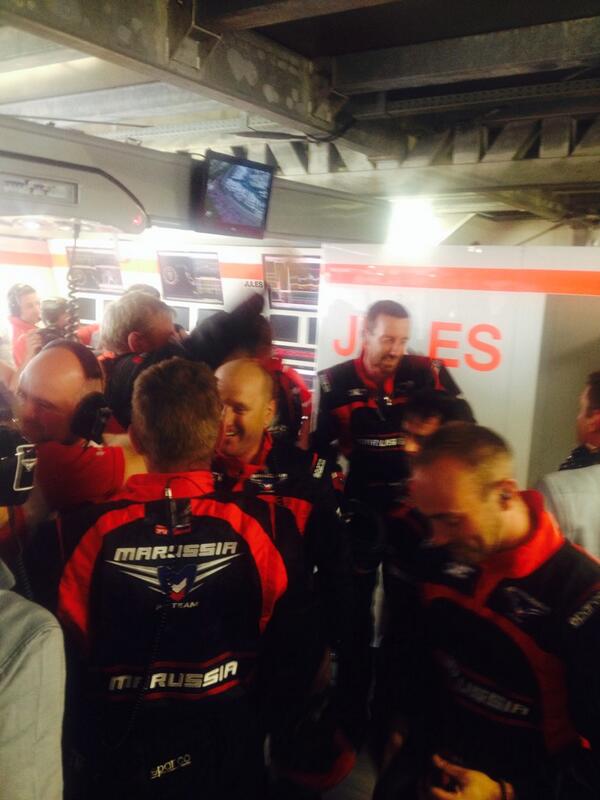 (Credits to Sky Sports F1 for the classification table)
1
ROSBERG
MERCEDES
1
1:49:27.661
25
2
HAMILTON
MERCEDES
2
+9.200
18
3
RICCIARDO
RED BULL
3
+9.600
15
4
ALONSO
FERRARI
5
+32.400
12
5
HULKENBERG
FORCE INDIA
11
+1 LAP
10
6
BUTTON
MCLAREN
12
+1 LAP
8
7
MASSA
WILLIAMS
16
+1 LAP
6
8
GROSJEAN
LOTUS
14
+1 LAP
4
9
BIANCHI
MARUSSIA
19
+1 LAP
2
10
MAGNUSSEN
MCLAREN
8
+1 LAP
1
11
ERICSSON
CATERHAM
22
+1 LAP
12
RAIKKONEN
FERRARI
6
+1 LAP
13
KOBAYASHI
CATERHAM
21
+3 LAPS
14
CHILTON
MARUSSIA
20
+3 LAPS
RET
GUTIERREZ
SAUBER
17
RET
BOTTAS
WILLIAMS
13
RET
VERGNE
TORO ROSSO
7
RET
SUTIL
SAUBER
18
RET
KVYAT
TORO ROSSO
9
RET
VETTEL
RED BULL
4
RET
MALDONADO
LOTUS
15
RET
PEREZ

FORCE INDIA
10