McLaren Mercedes Review
| | | | | |
| --- | --- | --- | --- | --- |
| Driver | Malaysia | Bahrain | China | Spain |
| Jenson Button | 6 | 17 | 11 | 11 |
| Kevin Magnussen | 9 | RET | 13 | 12 |
Jenson Button: 8th with 23 points
Kevin Magnussen: 9th with 20 points McLaren Mercedes: 6th with 43 points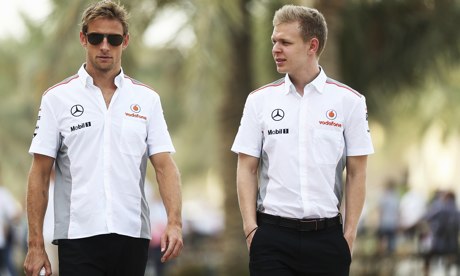 McLaren is the only so called top team with nearly perfect camaraderie between the teammate. One being most experienced, Jenson and the other being a rookie, Kevin Magnussen learning from the most experienced. This time last year, Button was fighting Perez, screaming onto the radio "Guys you need to tell him to stop running into me!"
Both the McLarens started the season off with a strong 2-3 finish in Melbourne, however, their form has been tumultuous ever since. Grabbing just a handful or no points on occasions, McLaren only hope for better races where there's more engine reliance and not aerodynamics.
Fitted in with the most powerful engine on the grid, McLaren still stand just 6th in the constructors, being beaten by Force India and Williams, other Mercedes benz powered cars. Continuing to bring updates every race weekend, McLaren will update the car once again coming to Monaco. But only if a miracle happens can we see a McLaren stand on the podium.
Through progress is slow, rookie Kevin Magnussen remains optimistic. "I'm happier with the car, not just in terms of my own driving, but also with the way I work with my engineers to set it up," he said. "We haven't totally cracked it, but things are going in the right direction."