Austrian GP review part 2 (STR, Lotus, Marussia, Caterham, Sauber)
Scuderia Toro Rosso:
Both Toro Rosso drivers Jean-Eric Vergne and rookie Daniil Kvyat have totally managed only 12 points this season. Their best result was so far has been in Australia in which they hauled half of the points they have today! JeV has finished just 3 out of the 8 races and Kvyat finishing 5 totally.
Austria was yet another disastrous weekend where both the drivers did not finish the race due to failures, however they showed good pace during qualifying. Starting the grand prix from 7th (Daniil Kvyat) and 15th (JeV) Toro Rosso's expected a strong race. But brake issues and the loss of balance caught Jean-Eric and his teammate out.
"I have struggled with the brakes from the beginning of the race. It's difficult to drive the car with such a considerable rear locking" Vergne was post race. "Problems happen, it's a shame that they occurred here but the new aero package is working well and we have a good car to face the next Grand Prix in Silverstone."
_________________________________________________________________________________
Lotus: Bravely allowing one of their drivers opt the number 13, much to the (probable) disapproval of all the Enstone triskaidekaphobiacs seems to be their problem this season. Pastor Maldonado joined the Enstone based team after quitting Williams at the end of 2013 and brought the huge sum from backer PDVSA to Lotus. However nothing has gone the way we expected! This very team used to win races and podium finish often along with Sebastian Vettel last season. Where did it all go wrong? Wait for it.. they operate on Renault engines!
Romain Grosjean is the lone points scorer for Lotus this season. Scoring 4 points each in two back to back contrasting circuits like Monaco and Spain shows the E22 does have the pace to finish higher. However, failures of all kinds have limited Grosjean (who still I believe can take on any of the top teams! He's too good to be down the field) Pastor Maldonado on the other hand has been scoring a lot of penalties. One after the other, he has already managed to get 4 penalty points on his super license, 2 stop/go penalty and two grid penalties in 8 races.
In Austria, both the drivers successfully managed to finish the race, though not in the points. Pastor Maldonado finished in 12th and Gorsjean in 14th - both of them a lap down on the leader.
________________________________________________________________________________
Marussia: Marussia's wait for a point has finally come to an end. In today's era of F1 where the backmarkers are in serious danger of losing out due to budget issues and cost struggles, it was on top-most priority for both Caterham and Marussia to score points to put them out of the danger of pulling out of Formula One. Only the latter however succeeded to reach the safe zone.
Max Chilton known for his only achievement of finishing all of the races last season is continuing the momentum by consistently staying in the P13-P17s this season. His only retirement this season was at the Canadian GP where he lost control and collected his teammate along with him. Finishing 17th at the recently held Austrian GP along with Jules Bianchi's 15th throws a light on Marussia's consistency this season. Standing in 9th in the constructor's championship is Marussia, ahead of Caterham and Sauber.
_________________________________________________________________________________
Sauber: The situation in the Sauber garage is no different from that of Lotus'. It's the case of a good team suffering back luck. Except in Sauber's case, the cars simply have no pace. 3 retirements under Esteban Gutierrez's name and another 4 under Adrian Sutil's.
Sutil looked promising at Monaco, en-route to score Sauber their first points until he made a mistake and went head on at the barriers. Bar just one race, the team haven't looked strong anywhere at all.
_________________________________________________________________________________
Caterham: Standing at the bottom of the contractors table, Caterham were Marussia's biggest competitors. Both fighting for the vital upper position for the last 2 years. However, this year Marussia's 2 points has propelled the tp P9, leaving Caterham's future in serious doubt.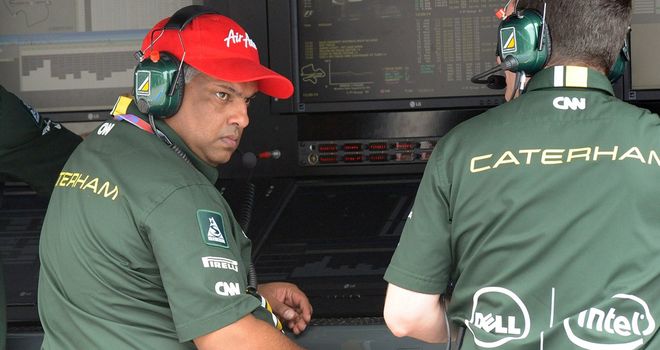 Tony Ferandez has already hinted to the public about eventually backing out if Caterham's performance does not improve. And after a poor performance at the Austrian gp where Kamui Kobayashi and Marcus Ericsson finished 16th and 18th respectively, the rumors have escalated.
_________________________________________________________________________________