Welcome to Melbourne! - City where you can see four seasons in one day. Oh wait, Round 1 of the 2013 FIA world championship
Author's note: Sorry for the late update! Being a student and writing a review is really tough. No more worries now, cause it's happy summer for me. And I have all the time in this world!
Its been 3 months 17 days 10 hours and 30 minutes since Sebastian Vettel clinched his 3rd consecutive title in Brazil last year. Or just to scare you even more, 157,590 minutes.
The past is history, tomorrow is a mystery and today's a gift. That's why its called the 'present'. It is the present, isnt it? The points table has been reset, the 2012 cars are no more, new faces, new colors, and a very new and exciting season. And best part of all, everybody, even the reigning world champion starts his quest to retain that FIA trophy for another year, from 0 points under his name. While he tries to remain on top of the world, he's being chased by the hungry, tough and strong others, and there are some on the grid hoping to finish the season a step higher than the initial default zero.
***
We were back racing officially on the 15th. Usually you'd the first race of the season to be fun, where cars go for laps and dont really care if they podium finish or even finish. Becasue the first race is always an extended test, where teams learn the tyres, the car's behavior on heavy fuel load and the balance. What we saw on 15th was way more than just that. FP1 & FP2 was dominated by the reigning world champion. It did seem as though RedBull picked up where they left off last season. Then came the fun on Saturday.
As disobedient as ever - the forecast, was (obviously) wrong. FP3 was underway when the steadily darkening sky warned us of a wet qualifying. (Grosjean went quickest in P3 before everybody shifted to Inters on an aquaplaned street circuit)
And a wet qualifying it was! The rain did its job, just poured and poured until the end of Q1 where (this year) 6 drivers got eliminated. Of them were 4 of the 5 rookies on the grid. Q1 saw spinning, crashing, drifting and of course loads of water. The FIA delayed Q2 by 10 minutes and then another 20. The successive stream of delays one after another seemed endless because of the rain and add to the flooding weather issues, the beautiful Melbourne sun would move across the globe to let the LEDs and LCDs of Melbourne take over the city for the night. So after a 2 hour session, the FIA announced Q2 & 3 would be held on race day.
***
First time since Japan 2010, a part of qualifying was held on race day because insane amount of rain that failed to be mistaken as 'we're going to be living in a fish tank'. The grid was decided 6 hours before the race and 24 hours after the actual qualy. So the track was damp (luckily) but some parts still a wee bit aquaplaned, but as the cars splashed and displaced water, the track kept getting quicker. Nico Rosberg looked very fast throughout qualifying and also his new teammate Hamilton, Mark Webber for a change looked on good pace. But Sebastian Vettel remained unchallenged,throughout the weekend and now quali, he was in a league of his own and grabbed pole by 4 tenths from Mark Webber and nearly a second from P3 man Lewis Hamilton for Mercedes. Followed by Felipe Massa out-qualifying his teammate behind him, then the lotuses.
***
The race was far from saying 'it was great!'. It was unpredictable and horrible. We've had the taste of unpredictability last season with the 7 from 7, and I sure do know that we prayed to the gods, prayed to the world champions on our walls for at least one of the 5 to win again and release our heartache of not being able to buy a clue of who'll be champion or contending for the championship until the 8th race.
Anyways, flipping to the present, Seb had a good getaway, Mark's race was spoiled by an electronics problem and lost 5 positions, Felipe Massa and Fernando alonso slingshot themselves to P2 and P3 respectively, and Lewis Hamilton who seemed really strong in Qualy, slipped 2 places back almost instantly after the 5 red lights were out.
5 minutes into the race (approx. 4th lap) , and the new (awful) Pirelli tyres started to eat themselves up. The super soft tyres were nothing less than wayward and with lightning quick degradability super powers. Some cars were too abrasive to the tyres, some were just on the brink of managing them and few cars were like a lady to the them. And by few, I mean just 1. Thats Kimi Raikkonen and his E21. With just 2 stops, and incredible management, he went on to win the race. Fernando Alonso who was able to just keep them in the bag, bagged 2nd behind pole sitter who struggled the most with the tyres and with the pace that he had during the race. Felipe Massa who lost on podium probably because of the tyre strategy. And Lewis Hamilton who qualified 3rd did a pretty good job job with his Merc to bring it home 5th. On the contrary, Hamilton's teammate Nico Rosberg retired fairly late with a electronics failure. Adrian Sutil in the FI did very well in Australia. He qualified P11 and so was on the opposite strategy, but he lead the race flawlessly, managed the tyres well and extracted the most out of his car to end P6. McLaren Mercedes have gone from a top field team to a mid field team, Jenson Button must be claustrophobic being mixed up in between somewhere down in P9 and his teammate Sergio Perez in P11. (How did Hamiton see that coming?) Home heroes - Mark Webber (bad start, bad day, no champagne...) and Daniel Ricciardo (Retired due to exhaust problems) will have to try again next year. The new Sauber driver Nico Hulkenberg was left alone in the back of his garage as very late fuel system knot stopped him from making his Sauber debut in Australia. Some say, that Lotus has unfair tyre advantage, some others say its a skill that Lotus have acquired.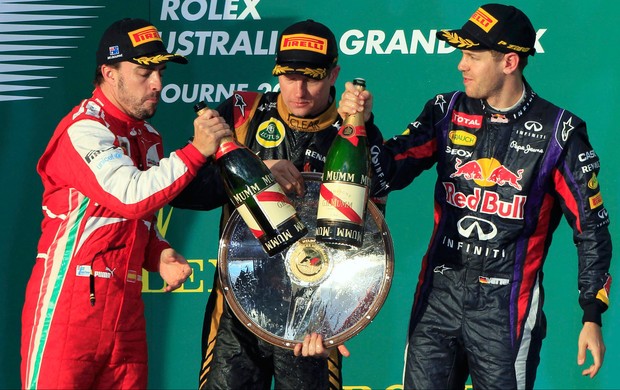 The Australian grand prix wasn't a 'race', it was a tyre lottery. The team that managed the tyres to perfection, won the race. Kimi drove a secret race. Letting 6 different drivers lead the race, then sneak attacks everybody. That is the first surprise and second one is the pace of Hungry Heidi (Vettel's RB9). She is the prettiest looking car on the grid this year, but during qualifying she showed under that good looking 'Klum' body of hers is a Usain Bolt. But the same couldnt be said for the race, cause it seems the runs on heavier fuel affects her loads. Thats what cost Sebastian Vettel his 27th victory.