Looking forward to 2015 - Driver line ups (part 1)
Mid season drama, or termed 'Silly season' in Formula One starts around the month of August and goes on pretty much until every move/decision has been leaked or confirmed by the drivers or personnel. This year however was very volatile. One one hand we had Fernando Alonso, dubbed as "the best driver in Formula One" by pretty much everybody. This Spaniard was tired of Ferrari's promises and looking for an exit somehow. And on the other we had the (back then) reigning world champion Sebastian Vettel, who had achieved all that he could in his time with Red Bull and every year ends up hearing the same news of him 'moving to Ferrari'. The chain of "who goes where" began with Vettel's sudden announcement during the 1st Practice session in Japan. However, until Austin, his whereabouts up and down the paddock was unconfirmed.
So, who is where now?
1. Mercedes - Lewis Hamilton and Nico Rosberg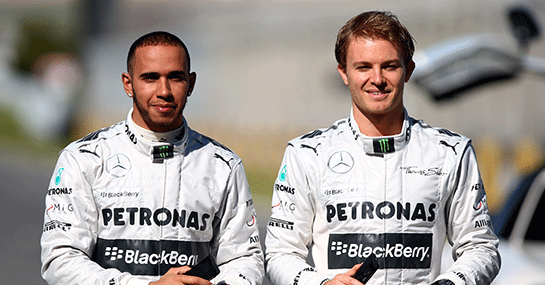 Lewis Hamilton
- Immensely motivated for next season, got the momentum and definitely the skill. There were conspiracy theories of Mercedes favoring the "German driver" but Lewis luckily proved them wrong after his consecutive wins in the 2nd half of the 2014 season. Lewis' contract extension has not been made as of now, making the drama even more exciting by opening up new possibilities in the future for the double world champion.
Nico Rosberg
- Blonde, German (so-so), apparently gets preferential treatment from Toto and master at resorting to certain calculative ways of taking down his teammate! In my opinion, the Hamilton/Rosberg duo would have been the best had Nico not trashed it all away in Monaco. All that brilliant racing in Bahrain could have continued if the team hadn't involved into their battles after the "flag-gate" incident. He is no doubt an excellent racer with the right manipulative skill required for a modern driver today, but he could learn to perfect the art of fair play too. I hope he gives a good fight to Lewis next season. Not to mention fairly too.
2. Red Bull Racing - Daniel Ricciardo and Daniil Kvyat
Daniel Ricciardo
- Definitely one of my favorites going into next season is Ricciardo! Of course, I judge him not relative to where he finished against the 4 time world champion teammate of his, rather the way he drove the wheels off that defective Red Bull. Very very strong driver with a good ability to set up the car; no doubt he will have the upper hand given Red Bull's capability to bounce back from an average season. His wins in 2014 were down to luck, no doubt, but fact remains he grabbed every opportunity presented to him and that's what
future
champions do.
Daniil Kvyat
- Initially I wasn't happy about signing a Russian kid solely because F1 needed that build up in hype for the inaugural Russian Grand Prix. I later regretted my decision after seeing what he could do! Jean-Eric Vergne is an excellent driver and a bar set high for any rookie driver to reach. And if Kvyat could very easily trump that bar in his first season, he could do the same in his second season in a better and bigger team like Red Bull. But the question remains,
how good is he a replacement for the well reputed (no sarcasm) 4 time world champion Sebastian Vettel?
3. Williams F1 team - Valtteri Bottas and Felipe Massa
Valtteri Bottas
- Thanks to the newly fitted Mercedes engine in the Williams, Valtteri Bottas was given the golden ticket to glory. Phenomenal drives in the Williams car saw him beat Sebastian Vettel to 4th place in the World Driver's Championship with 6 podiums in total and 186 points. In wake of his new found pace in his car, I am pretty optimistic about his future (with rumors of his ties with Ferrari!) We've found the new flying finn!
Felipe Massa
- After all those suppressive years at Ferrari, Felipe Massa finally gets a position in a team that respects him; I feel that's an achievement in itself. Felipe is undoubtedly a driver to be respected for his experience and also his occasional spurts of unbelieveable motivation that drives him to podium finishes. However, this season he seemed a bit on the back foot compared to Bottas. The reasons are currently unknown, maybe he too was a big fan of downforce. His contributions to the team has been immense and most likely it will be Massa until 2016.
4. Scuderia Ferrari - Sebastian Vettel and Kimi Raikkonen
Sebastian Vettel - I could probably write a thesis on why Vettel deserves more respect than he gets after all the bashing this season. True, he was beaten fair and square by Daniel and with all due respect to Vettel, Dan did do a much better job. However, I don't see how this takes away all of Vettel's talent! One season this guy wins 13 races and the other he wins 0. It's not because he packed up his driving knowledge and sent it off to Syria, it's because the car he had didn't produce that downforce he has been used to all these years. One could argue that he's a world champion, he should learn to adapt. Adapting is what he has done all season, didn't you see? The car refuses to listen to him because today they have a mind of their own - which racing drivers like Raikkonen and Vettel, also to an extent Alonso could not put up with. His move to Ferrari was evident for the reason that Red Bull and him had nothing to look forward to any longer. He'd helped them build a team that will now forever be etched in history and the team provided him with the car that helped him do the same with his name. It's time Vettel did the same to a mid-field team like Ferrari now. I approve!
Kimi Raikkonen - Maybe it would make my job easier if I could just copy-paste whatever I had written for Sebastian. He suffered the same problems and hopefully his "friend" and him will find a solution to this. Interesting would be to see how thick friends off-track (Vettel/Raikkonen) survive the teammate rivalries. Will they fall apart like Rosberg and Hamilton?
5. McLaren-Honda - Jenson Button and Fernando Alonso
Fernando Alonso
- After years of Ferrari's unfulfilled promises, the Spaniard finally called it quits with the Italian marquee. Ironically, he joins Ron Dennis and his venture at McLaren! The very team he used to hate and nearly ruined his career in 2007. Alonso is undoubtedly one of the best drivers in Formula One and his decision to switch teams, I believe, is very late. In my opinion, the reason Alonso stayed at Ferrari despite all the disappointments was because more than driving for the team, it's the home he will have to rebuild at any other team. His influence at Ferrari was evident in the way things were run. Massa was suppressed, young drivers were neglected and Ferrari itself was run by Alonso. If he were to move to an English team,
will he be able to make the team his property?
Honda will benefit Alonso's insights but also will have to face with his temper and sometimes over-charged prices.
Jenson Button
- JB had an exciting summer break, I presume. He got married and all..
2014 was a disastrous year for McLaren. Despite having a Mercedes engine running on them, the team could only manage a 5th in the constructors and Jenson hauling 126 of their total 181 points. He had major understeer/oversteer issues throughout the season - that's been the only consistent result. And just like most of the other traditional drivers, he too has failed to adapt to the new formula. However, the issue in McLaren is evident - aerodynamics.