BRITISH GRAND PRIX
Three weeks is a long time in Formula One. Not just for the teams and drivers, but the fans too. And after a whole three weeks of no racing at all, I'm sure all of us would needed that kick of thrill and excitement.
A track that has 63 years of history attached to it – starting with the first Grand Prix in 1950 to today – the British GP has been a vital addition to the calendar each year.
What's common between 'enthralling', 'wet weather', 'spinning', 'crashing', 'history'? They're the words closely associated with an ideal British Grand Prix. And this year's race had pretty much all of it.
There was big news coming out from the paddock the last three weeks ahead of the race weekend at Silverstone that stumped everybody.
Firstly, news that Red Bull and Ferrari certainly weren't delighted to hear – the Mercedes 'Tiregate' tribunal on June 20. After the hype during the Monaco Grand Prix, the hearing was concluded by giving Mercedes a slap on the wrist by giving them a mere reprimand.
Secondly, that the reigning world champion Sebastian Vettel has renewed his contract until the end of 2015 with Red Bull Racing.
Thirdly, and very ironically, just a week after Vettel's contract extension news was publicly revealed, Mark Webber decided that his future does not lie in F1 anymore, but in Le Mans, with the heavily-linked Porsche team instead! This means there's a Red Bull seat up for grabs between three drivers– Kimi Raikkonen, Daniel Ricciardo who very recently recorded his best ever finish, and Jean-Eric Vergne, who is also close to getting a seat at Red Bull.
The 'T-word' has quietened down since the Canadian Grand Prix, as after Pirelli made it clear that there were no more changes to be made by the Italian manufacturer to the tires, teams had no other choice but to get them working right. But yet, tires do come into play at Silverstone as the slick options for this race will be the hard and mediums.
Practice
As the tradition of Britain goes, it has to rain in the most important time. Practice one was bogged down by rain. Cars which ran used the whole wet tires to go for warm up runs in the first 1 hour 15 minutes of the complete session. In the last 15 minutes, Daniel Ricciardo became the first driver to set a lap time. Later came Lewis Hamilton and Nico Hulkenberg. Though Daniel Ricciardo set the fastest time, the session was inconclusive as teams were reluctant to venture out in tricky conditions.
In Free Practice two, the sun shined over the main grandstand and there was a small percentage of rain, which graced later in the session and just sprinkled some water on the track. The majority of the cars did their warm ups within the few minutes. The hard tyres seemed in demand in the early stages of the session, but later as the track got faster and rubber started being laid down on the track, the teams switched over to the options. Nico Rosberg posted a lap time of 1:32.248, which seemed out of reach for the Red Bulls right behind him, with Webber in P2 and Vettel in P3. We've seen how these damp/dry conditions suit the Force India cars; the British fans must've had a treat when home hero Paul Di Resta sat at P4. Felipe massa had yet another crash in Silverstone, which damaged his front wing.
The 2 contrasting practice sessions gave a clear idea of where some teams stood. The Mercedes looked strong no matter what nature throws at them. Wet or dry, Nico Rosberg and Lewis Hamilton could make it to the top 5. On the contrary, both the Ferraris struggled through both the qualifying sessions. Silverstone is a track that demands high downforce and aerodynamic stability, which the Ferrari clearly lacks. Felipe had handling problems coming out of woodcote and his teammate too.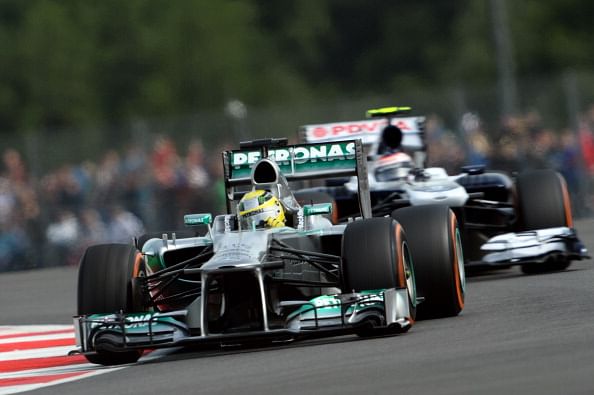 Practice 3 was fully dry and likewise lap times dropped, by nearly 2 seconds! Nico Rosberg once again topped this session with his teammate behind him. Sebastian Vettel, who was the stronger of the Red Bulls this time, finished in 3
rd
.
Qualifying
Qualifying was not very unexpected. The lower teams like Caterham and Marussia got out in Q1. The second leg showed some elements of surprise, where Jenson Button, one of the home heroes, got eliminated along with his teammate Sergio Perez. The McLaren seemed outpaced by other teams, despite bringing updates this weekend. Then there was Felipe Massa who got out too. Massa's season is slowly turning upside down, but with 11 races to go, anything can happen. The final 10 moved onto Q3, out of which only 4 were pole contenders – Nico Rosberg, Lewis Hamilton, Sebastian Vettel and Mark Webber.
Webber set a fast time, only to be beaten by Rosberg. In the dire end of qualifying, Hamilton swooped into pole position while further back, Vettel nicked into P3 beating his teammate once again. Ever since the news of an empty Red Bull seat was confirmed, Ricciardo has been performing very well, and he started in P6 for Toro Rosso. P5 was taken by the Force India of Paul Di Resta. But earlier today, the FIA reported that he will be starting from the pit lane. The reason behind this was that his car was underweight by 1.5 kilos.
Championship contenders
Fernando Alonso
and Kimi Raikkonen started down in P10 (P9) and P9 (P8) respectively. Alonso blamed his team for his qualifying flop, while Kimi just was 'very disappointed'.
Race
A beautiful sunny day at Silverstone with 22 powerful roaring V8 engines was ready to treat us to action. As the 5 red lights went out, the pole sitter Lewis Hamilton comfortably got off to a gap. Meanwhile, his teammate behind lost a position to a charging Red Bull of Sebastian Vettel. Further back, retiring hero Mark Webber had a racing incident with Romain Grosjean, which pushed him all the way back to 14th. Fernando fell back on his 10
th
place to give room to Jenson Button and Felipe Massa, who charged back at full speed to go past his teammate.
All looked nice and happy until lap 9, where the new Pirelli tires showed their unsafe characteristics. The race leader Hamilton, who posted great lap times, was the first to blow a tyre. This unusual tyre blow wasn't an exclusive situation for Hamilton, but one after another for Felipe Massa and then Jean Eric Vergne. A series of blows called for the safety car as sharp pieces made the track unsafe.
For almost 5 laps, the cars were bunched up behind Vettel, and as the restart took place, all cars made a clean start. An action filled Grand Prix called for even more action after lap 35. Sebastian Vettel, who led a pitch perfect race since Hamilton's troubles, unfortunately suffered a gearbox failure. This meant 0 points for him this race and going to the championship standings. This also meant that the safety car was deployed.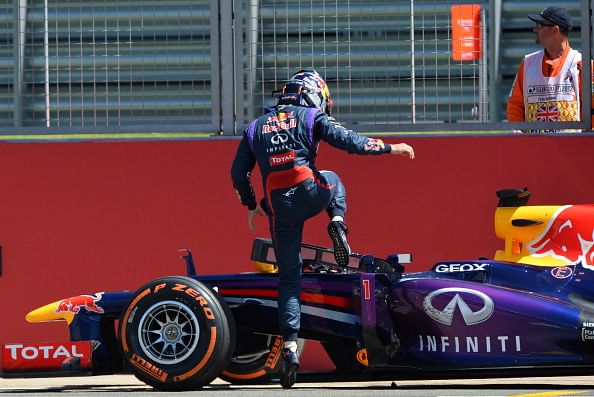 Arguably, the British Grand Prix will be a race that'll be talked about for rest of the season. The last 15 laps made it more exciting than ever. Mark Webber, who suffered a damage to his front wing, fell back but pushed and fought all the way to finally pass Kimi Raikkonen in the last 5 laps to bring the sole one RB9 to finish P2. Fernando Alonso drove the wheels off his Ferrari, which looked behind all the leaders all weekend to make it finish in P3. And finally, the winner of the British Grand Prix, Nico Rosberg, the birthday boy this weekend, did not have a very clean start, but managed his tires very well, kept out of trouble and made himself a memorable weekend.
The British Grand Prix flipped the coin in terms of the championships and also turned the tide against Pirelli. Now the championship lead has come down to within a win. And the next Grand Prix being in Germany and Fernando Alonso being the reigning winner, it could all play down to his hands. Another eye opener in this race is that there is now a greater chance of Ricciardo getting himself a hold of that Red Bull seat, for once again he proved that he can bring a car into the top 10. Then there is one topic that no matter what we cannot stop talking about – the tires. After this weekend, Pirelli carries a huge question over the safety of the drivers with its fast degrading and exploding tires, which are being fitted into the cars they drive.
Looking forward to the German GP, back to the Nurburgring next weekend for all the action.