2013 Pirelli Spanish Grand Prix – Lessons we learnt during the weekend


Back to where it all began.. Catalunya. The difference, though, is now we're going to see racing here. It's said that the Spanish Grand Prix is where the 'real season' starts, because that's where all the major changes happen, like the upgrades brought in by the teams. But this year, it was an awful lot different. Coming to Catalunya was like the second start to the season. Pirelli, who have been under constant pressure and criticism from RedBull Racing and few other teams, finally decided to make amendments to the hard compound tires, hoping to make it similar to last year's hard compound. And since Formula One is no more than tyre management now, it looked like a positive step from Pirelli to promote more racing. And the fans loved it!

Practice 1 was disrupted by heavy rains and to no surprise, many of the drivers didn't run. And those who did, unable to hold in the impatience, ran on wet or intermediate tires. The rain did not give any break to the Hard compound tires making their debut that Friday. Fernando Alonso topped P1. But going in as favorite for the weekend, there was no doubt the home hero Alonso would not do well. Practice 2 had some decent running on the Medium and the Hards. Fortunately, there was not too much difference between Pirelli's hard and medium compound slicks, so the teams did not have to spend a lot of time comparing tires. Instead, they could concentrate on evaluating the aero upgrades they had brought to Spain. Triple world champion Sebastian Vettel just edged Fernando Alonso by a few thousands to nick P1. Practice 3 was the same old story, as this time Felipe Massa emerged on top with a very quick lap time around the circuit, in the session just prior to Qualifying which made the Ferrari the hot favorite for qualy session a few hours later and of course, in the race. Qualifying was all up to the tires. Yes, we are talking about qualy, a session which had also become victimized by the delaminating tires.

The Spanish GP Qualifying session saw different strategies. The Ferraris ran on hards and mediums. On the contrary, RedBull racing's Sebastian Vettel ran on the medium tires in all 3 qualy sessions, to save 3 sets of Hard tires for the race. Very conventionally, Q1 saw the Marussias and Caterhams out. Last year's winner, Pastor Maldonado, struggling with his Williams, got knocked out too, along with his rookie teammate Valtteri Bottas. Q2, too, did not show any surprises. STRs were out, Sauber was out, and the only exception was Jenson Button, who unusually qualified only 14th while his teammate sat in P6 and went into Q3. The McLaren clearly lacked pace and the new upgrades had not sprung any good results. Mercedes' new driver, Lewis Hamilton, pulled in an extraordinary lap to put him in P1 beating Seb in the final minutes of Q2. Q3 was a close running session. But by beating all odds, Mercedes locked out the front row with Nico and Lewis in P1 & P2. The RedBull's Vettel managed to beat both the favorite Ferraris to end his session in P3, while his teammate could manage just a decent 8th place. Home hero Alonso managed a P5 behind Kimi, and Massa in 6th (later dropped to 9th for impeding Mark Webber)

Race: The title says it all – Pirelli Spanish Grand prix. With all the top 10 drivers except Kimi (somehow!) worked on a 4 stop strategy, the pit lane became the busiest part of the track. Catalunya is one such circuit which is said to be tough to overtake on; nevertheless, the Spanish grand prix provided the competition and excitement that urged us to keep the television turned on. On his home soil, Fernando Alonso eased his way to victory to acquire a solid 25 points, along with his teammate Massa, who seems to be continuing the momentum from last year to finish 3rd. Kimi Raikkonen, the miraculous tyre manager, finished 2nd to bite the gap off Sebastian Vettel in the WDC after making a 3 stopper work.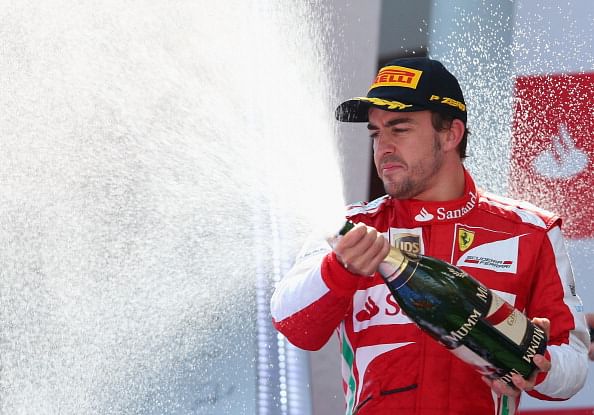 What can we infer from this weekend?
The Tyres: "Formula One – competitive tyre management championship" – This was one of the greatest tweets. This sums up pretty much the whole situation of today's F1. In the more serious note: Pirelli have promised to [one again!] make changes to the tyre compounds by the Canadian Grand Prix. Though teams like Lotus who have seemed to make the tyres work in the right window right from the start, obviously consider this change a disadvantage and resist the change. The new member of 'I love Pirelli' club with Lotus is Ferrari, who despite doing a 4 stop, stole the race in Barcelona.

Mercedes: There's no doubt that after all the trading and exchanging of team personnel during the winter break, Mercedes have come out all powerful and strong. But strong where? In the last 2 races, Mercedes had got full control of Q3. And frankly, they're heading as favorites for the Monaco Grand Prix the following weekend. But the important race of 60+ laps on Sunday is Mercedes' Achilles' heel. They have got the speed and the drivers, but tyres let them down each time.

Massa: Back on form already? It was surprising to see Felipe Massa not struggling in the first half of the season. Unlike last year, where he struggled to even keep his name up as a Ferrari driver, this year Massa has come out a LOT stronger. Despite finding himself in an unenviable position of a penalty for impeding, he roared from P9 to finish P3. It'll be more interesting, now that we've actually got TWO drivers in the Ferrari team.

Sergio Perez, McLaren and Jenson Button: Though the upgrades certainly did not work for Jenson, Perez pulled the maximum out of his MP4-28 to make it to Q3. Race pace wise, McLaren is still lagging, but is fast enough to finish higher than their grid positions. Looking on to Monaco, where the older McLarens have always been competitive enough, it again will be hard to suggest where the MP4-28 might land up. If they have upgrades that work, both their driver have a chance of starting higher up on the grid.
Sergio Perez stole the record for the worst McLaren driver from Nigel Mansell this season. Moving into this bigger team, with target bars set high, Sergio has not been able to perform as well as an ideal 'McLaren driver' should. Of course, the car isn't any good, and the tyres aren't either. The situation got even worse when Checo banged on Jenson's car in the Bahrain GP to gain a position. But that P6 was the best finish for McLaren. And also giving the new 'Claro Video' sponsor in the rear wing of both their cars.
Jenson Button is, or rather was, the only driver who took care of his tyres like a lady! Here he is now, being haunted by the car of his nightmares and tormented by the ever disobedient tyres. He's a world champion and we know he's good at what he does. It's the car to blame this time.

Red Bull Racing: Just like everybody else, the reigning world champions too are finding a way to work with these tyres. Like Sebastian Vettel said post Barcelona race: "P4 & 5 was the maximum today". Red Bull didn't bring game changing upgrades to Barcelona but the ones they did bring before the previous race upped their game. Even Horner is coy over Mark Webber's future in his team and also in F1. And we can see why not, after a series of incompetent performances since his victory blow at Malaysia. (RET – 7th – 5th)

This is all after the Spanish Grand Prix.

I am looking forward to the Monaco Grand Prix where all the glitter, glam, fame and history come together. It's a classic track, and a favorite for almost every driver. Monaco has always been a track that the Red Bull has fared very well on, but seeing what's been the case the last 5 races where grid positions don't matter much, it looks like a track on which any of the top ten can taste victory.