The bests of 2012
Who can possibly pick just a few best races out of this 2012 season? Each race being unique and enjoyable to itself, and EVERY race almost unpredictable. Just as the phrase 'best of best' exists in English, there are a couple of races that stand out this year.
8th different winner in Abu Dhabi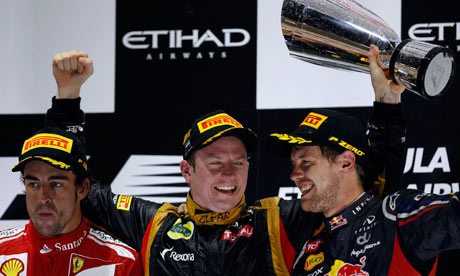 It's got to be said that he's had the best comeback in F1. After his 2 year absence, F1 had missed him and worried if he could still manage- right then, Kimi Raikkonen proved -He still hasn't lost it. A perfect start, and perfect stuck luck saw kimi win the twilight grand prix. After Hamilton's unfortunate retirement, the Finn took the lead, and never ever looked back. While engineers told drivers to work on all four tyres through the safety car period, the Iceman iced his engineer. "I know what Im doing - Leave me alone!" radioed Kimi. A fuelling snafu after qualifying 3rd, saw Sebastian Vettel starting from the pitlane, and a remarkable comeback to 3rd behind Alonso on sunday, to keep his championship alive.
Spectacular Singapore
While rest of the world goes to sleep (minus the 500 million who ardently watch F1) the streets of Singapore soak in the sounds of 24 V8s. An action packed grand prix with 1 lap less than the scheduled 61, two safety car periods, pitstop drama and lots more, saw Lewis Hamilton leading from Sebastian vettel... well, that was until lap 23, when his MP4-27 failed him yet another time from the lead. And since that race on, its been 2011 again until Abu Dhabi. Sebastian Vettel won 4/4 on the trot and had a decent lead in the championship with Alonso right behind. On the contrary, it was another (same old, same old) disaster for Michael Schumacher, who rammed into the rear of Jean-Eric Vergne. (Poor guy!). And for Lewis Hamilton, who pretty much had control of the race until he retired. And of course! Paul Di Resta's career best P4 saw him working well with his car and taking home a big chunk of points for the constructors.
McLaren rule Monza
Funny enough to say, that this might have been one of the only 2 races that Lewis Hamilton, started on pole and successfully managed to take a win the next day. Lewis and his McLaren looked on top of their game on that weekend and seemed unstoppable. But it wasn't Lewis's win that was under the spotlight on Sunday, but it was the Mexican, Sergio Perez on podium beating Alonso to take P2! Monza is a track known for its super high speeds. And that meant trouble hit the RedBulls first. It was a fair day on Saturday, with Webber in P11 and Sebastian in P5 (surprised, very surprised!!). But it was a complete upturn on Sunday after, the 'ever troubling' and 'ever-wrong' alternator haunted Seb again. And as for Mark, a spin ended his race.
A fuel pressure problem saw Button forced to retire too. But star performance from Sergio Perez, the aggressive nature yet subtle on tyres style, and the strategy made this race a top 5.
Its RED or BLUE now..
Last race of a spectacular season saddened us, but the fact that this is a championship deciding race filled us with restlessness and adrenaline (probably, even more than what Seb and Alonso would've had!). Clouds, rain, grid slots, speed. All in favor of Alonso. But Vettel wasn't here to back off, he was here to join that elite group of just 2 world champions! After being hit, turned around, having terrible car performance,He managed a P6. And of course, very nice friends (schumacher) who let him win - All together contributed to his 3rd title. The whole weekend was about Seb and Fernando. But what the heck was going on in the front? The Brazilian grand prix started with a silver McLaren in the front and it saw a silver McLaren taking the chequered flag too..but this wasnt the same McLaren. It was ANOTHER misfortune that ended pole sitter, Lewis' race. This time it was a P1 running Force India of Hulkenberg that wrecked Hamilton's suspension. That paved way for Jenson Button to take the chequered flag for himself, his team and more importantly, for Christian Horner, Sebastian Vettel and the whole RedBull Racing team. The final race also saw home hero and an emotional Felipe Massa on podium for the 2nd time in 2 years! Happy him!