Level of unreasonable: Bernie Ecclestone
Bernie Ecclestone has been all over the news lately; making comments that he shouldn't be making and suggesting ideas that could potentially destroy the sport and evaporate the fanbase. I admit, I used to be a big fan of Ecclestone.. I would say a bigger fan of Bernie than F1. But the guy has shown his true colors in the media, parroting certain hypocritical statements which wasn't well received by the fan base or the audience. Either he is showing signs of REAL old age (he's 84, mind you!) or he is on the verge of developing something called cranial rectosis which basically means crap for brains/ head up your rear end (you can substitute any other word you want for that..)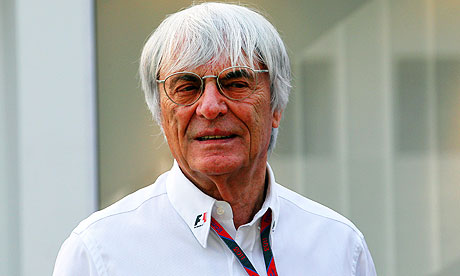 A conservative, hypocritical genius
I have always been a fan of Senna. He's an epitome of 'man and machine in one body sharing the same soul' (probably because the cars back then could have a soul) And what better picture do you need than the whole 1988 season or the 1993 European GP to prove the point? The only other driver I saw coming close to Ayrton and his McLaren was Michael in the scarlet Ferrari. It was a demonstration we couldn't forget even if we wanted to. The scraps, the 3 way fights between Raikkonen, Montoya and Schumacher was a treat to Formula One. Even after those glorious years, we had great chapionship battles, namely, Lewis Hamilton's title in 2008, Vettel's in 2010 and 2012. Vettel's prime may be a little too reminiscent of Schumacher's, but there was a stark difference. Despite the dominance, the display of perfection and control, Vettel has many more issues riding on him externally unlike Schumacher or Senna. When was the last time senior authorities of the sport tried to stop Schumacher from dominating? Or made it the greatest crime of all history when Senna rammed into Prost to clinch the 1980 world championship in Japan?
Formula one is a big sick tree surviving on its healthy deep roots.
Bernie Ecclestone did one of the best things one could do for F1. Running FOCA with Max Mosely and selling television rights. Some of the things that play a big role in the survival of the sport. But those things only worked for a while before Ecclestone's hunger suddenly stole the sport from F1 and it became all about TV rights. Bernie decided to run a show. Thanks to his impeccable idea, we switched to V6 turbos! Oh yay what a year that was! Engines sounding earth moving vehicles, powertrains so complicated and so expensive - which contradicts his proposal for "cost cutting" and then comes the million restrictions, which if breached, can empty a team's reserves in trying fix that issue.
To top it all off, after completely shaking off the plum pudding model single handedly, Ecclestone called Formula One "Sick" (http://www.motorsport.com/f1/news/ecclestone-says-formula-1-is-sick/)
I admit, I laughed.
If I had to make a list of reasons why the sport it dying because of Ecclestone's financial plans, I would probably be sat in front of my laptop all day to explain the complicated-ness of it all. In short-
F1 generates about $1.5 billion a year out of which 40% is taken by the owners. In the meanwhile, 6 out of the 10 teams are in financial crisis. Equity firm CVC seized the opprtunity to purchase the sport's commercial rights for $2 billion back in the early 2000's - thanks to Bernie. That's not even the worst part of it - a third party company that owns 35% stakes of the sport now has better control of the financials than the real participants of the sport. Had the (supposedly a 100 year) deal between Bernie and CVC not been all that very wrong, the teams would not have to struggle and measures to control expenditure wouldn't have become a necessity.. the things that ultimately hurt oh so precious viewership today.
The other aspect is seeing the sporting side of things. Introduction of new Pirelli tyres, engine freezes, being heroic in the world of automobiles by shifting to the V6's, the whole idea of making the rich teams richer and poor teams poorer with a flawed financial structure; all of them add to the F1 tree's sickness. Oh and another one - the number of penalties that exist in Formula One is staggering! Imagine the wheel to wheel battles between Hakkinen and Schumacher, Villeneuve and Arnoux or even Lauda and Hunt all going down to picking up drive through and stop/go penalties? Drivers today are tamed, controlled nerds, who most likely spend half their time during the off season reading through the FIA's long list of newly added hair plucking regulations and rules. It also contributes to their held-back behaviour in front of the camera. Probably Bernie should know that viewers want drivers who are soulful in their appearance - not with a PR person recording everything he says, making him feel utmost conscious of what he says. Who didn't like James Hunt's witty statements or Ralf Schumacher's candid comments? That recorder away, and you'll find Germans funny and Finns chatty.
F1 needs a revolution (and not V6's, not PR people, not a money hungry old conservative)