FOOTPRINTS ON THE SANDS OF TIME
You may be a die-hard, passionate F1 fan or someone who aimlessly stares at the television on a weekend at a coffee joint and get drifted doing something else while an F1 race is going on. But this man never fails to get your attention – Sebastian Vettel. A charismatic personality with the sheer inborn (or should I say ' DNA coded') skill of brilliant driving , he is an enormously respected and a hugely popular public figure in the sport. As Martin Brundle rightly said: "He (Sebastian) is the perfect racing driver. He is good value, he is a nice lad, appreciates everything everybody does for him, he is not gone all superstar, and he gets the job done".
This triple world champion is a class performer each time he is out on track and a dominant figure in today's F1 scene. He has the control, speed and precision to nail a single flying lap in Q3, the focus and consistency to pull out a gap in the lead during a race. His stellar performance in the 2012 Abu Dhabi GP left no doubts in the minds of those who thought he was just another speeding kid. His analytical mind and maturity at just 25 has stunned everyone. And he reminds us – not just fans but also analysts – of the immortal Ayrton Senna in his days with his brilliance and composure, which will never be forgotten.
Born in Heppenheim, Germany, Vettel started doing what he loved at the tender age of three. When normal people like you and me would be learning to run or skip or learn to play hopscotch, he started Go-Karting – the very first stage of any form of motorsport. Back then, it was just a pastime, but when he realized it was the real deal, just like his winnings today, he soared high in Go Karts. At the age of 11, he was spotted by Red Bull's Junior Team, and with the nurturing they gave to young Seb, he won the 2001 Junior Monaco Kart Cup, and many more followed from thereon. 2003 was the year he got promoted to open-wheel cars, a big step that brought him closer to his dream of driving in Formula One. An impressive 18 victories from 20 races in 2004 won him the Formula BMW championship. From there on, his Formula One career picked up, after getting a chance to test a BMW Sauber car in 2006 (whilst competing in the F3 EuroSeries).
In 2007, the German made his debut with the Sauber team at Indianapolis, replacing an injured Robert Kubica. He finished 8
th
, become the youngest ever points scorer in F1 history. He was later dropped by the team, only to be taken by Red Bull's sister team, Toro Rosso. The 2007 season with Toro Rosso was average as he finished in 15
th
place. But the next season, he roared back by winning the first and last race for Toro Rosso, at Monza, in the most precarious conditions of wet weather.
After that win at Monza, the bigger team – Red Bull Racing – immediately set their eyes on the prodigy for the next season. In 2009, the year he spent with RBR was a 'learning process' that led him to the next big step, finishing the season as runner-up in his first year with the team. One of the greatest strengths of Sebastian is his unstoppable momentum. It's the art of staying at the top. The next year, 2010, was a dream come true. He carried on the winning streak from 2009 to become the youngest ever World Champion at the age of 23. The season was full of highs and lows, as he said "One weekend you are the best driver out there, and the next weekend you're the biggest idiot driving around". Being with and driving for a bigger team gave him a stronghold on the sport in all its dimensions – the technical, mental and emotional. And that gave him the strength not to succumb under pressure from one of the greatest two time world champion, Fernando Alonso, and also take five comfortable wins, which led him to the championship.
At that time , it might have appeared that he was already at the summit, but his journey was far from the end. His thirst for more championships was yet to be quenched.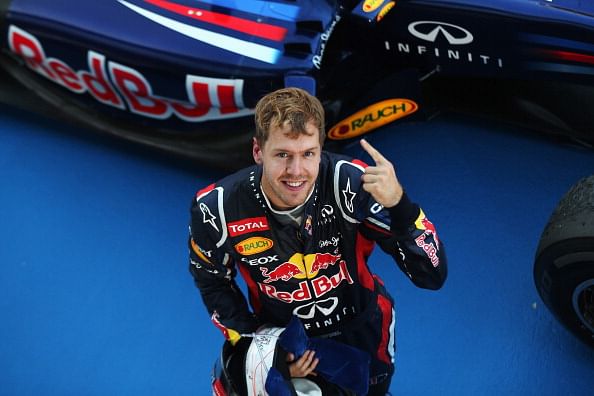 There was constant improvisation from Red Bull and from Vettel to get the perfect sync between a machine and its driver. Red Bull capitalized mainly on his eye for detail, analysis and his thorough openness with the team. And they absolutely nailed it in 2011. 11 victories from 19 races and 15 pole positions made it an utterly Red Bull dominated season. All Vettel had to do was to take the first victory at Melbourne, and from then on there was no looking back. By winning the championship with 4 races to go, the evolution of Red Bull as a great team and Sebastian Vettel as a great driver became even more obvious. But without getting immediately carried away by the success, he set onto work for next year, 2012, when serious regulatory changes were announced.
The 2012 season was a shock to see, as well as an eye opener. RBR had won just 3 Grands Prix in the first half of the season, and 2 in the unpredictable 7 different winners from 7 races. But the unifying strength that Red Bull had – to sit, talk and discuss with both their drivers – set the scene for a turnaround. The highly troublesome tyres and the regulatory changes affected the champions dearly. But the incredible bounce back in the 2
nd
half of the season by winning all the Asian Grand Prix events, narrowed down the widely open championship to just 2. Once again, going head to head were Sebastian Vettel and Fernando Alonso.
"Never lift, never stop believing" said Sebastian Vettel after the Abu Dhabi Grand Prix, where he started from the pit lane and made an impeccable effort to finish at P3 , against all odds, sticks and stones. Whether he won the championship or not that Sunday, he won the support of most of the fans for his 'never give up at any cost' attitude. Because that's what kept him in the championship hunt despite not winning a single race in the European leg. Overtaking almost everybody on the track, not once but twice, he proved to all the critics that a forever front row starter CAN overtake.
Vettel, has been a fantastic performer under immense pressure, with extraordinary will power to revive back from a hit on the first lap, to come through the rain, and yet challenge his rival and win the championship. He joined the elite group of just two other world champions (Michael Schumacher and Juan Manuel Fangio) to have won 3 titles in a row. Niki Lauda, who was in full appreciation of the 25 year old's achievement after a tough fight for the championship in Brazil, said, "Sebastian did it with all the odds running against him. What he showed on Sunday in Brazil was the sheer will to succeed. If you cave at such a moment you are not the right stuff."
Vettel – The only driver to joke with the media, to come back from 24
th
to finish P3, disappointing his rival in times of utmost importance, and the driver who survived a crash, losing radio communication with his team, pitting 4 times in rain, all in the championship deciding race.
Vettel's killer instincts might not make him more popular with his Formula One colleagues, but it is also what sets him apart from middle-of-the-road drivers. Schumacher was either loved or hated, like Senna. Vettel is on his way to being the same. Every driver has his highs and lows. But having the right spirit to accept each one of them is the trait of champions. The humorous, light-hearted and yet fast, triple World Champion has the combination of intelligence, wit and charisma which will take him to great heights. After all, he's just twenty five! He has more to achieve and has more hatred to face.
As Christian Horner said, "the best way to become unpopular is to win over and over", and I think this German has already reserved his exclusive space here.